In the past two years, a certain backpack company based in Vancouver, BC, but manufactured overseas, has become incredibly popular, and truly saturated the market.  Suddenly the humble backpack, duffel bag and even laptop case became a mode for self expression.  There have been other brands before, such as Jansport, North Face and more, but none had been embraced so wholly in streetwear culture.  It's time for a little competition.
This week I discovered a new brand of bag from the UK that I think has some great style notes, is gaining popularity in the rest of the world, and I wouldn't be surprised if it took off here too. Enter: Mi-Pac (Mi-pac.com).
Their line of colourful backpacks, duffel bags and accessory cases look sharp and come in  a variety of prints and style. I just picked up their Denim Dye (of course) Duffel bag.  I love all the print styles, and I think they compliment a lot of modern street style looks.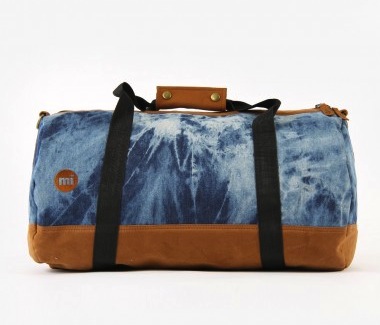 Their backpacks are pretty dope too:
Simple, nice colour and print combinations and so, so many choices. When my bag arrives in the mail, I'll be able to attest to quality, but for now, I think they look pretty damn good.
In other news, I did something super narcissistic, and put myself in our most recent Search & Rescue Denim ad on ArtofManliness.com.  So that was fun. 500,000 people can see my receding hair line. Heyo!