London Fashion Week has come and gone, but I found this great video with some of the highlights from the show. So many great designers! Full description below.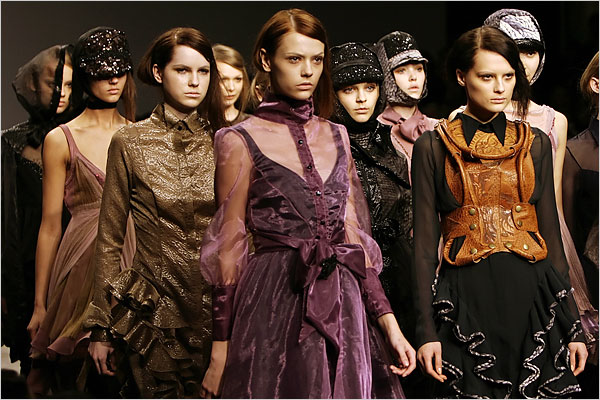 LONDON – FashionTV has an indepth look at London Fashion Week Fall/Winter 2012-2013 with highlights from shows like Burberry, Alexander McQueen, Vivienne Westwood, and more.
Backstage at McQ by Alexander McQueen, the models have mushroom hair and zombie-inspired pale face makeup. There was a strict character to the show but later embroidered floral and lace were thrown in.
Vivienne Westwood's Fall 2012 collection made an English statement, but certainly not a loud one as we've come to expect from the designer. Perhaps that was the loudest statement of all.
At Aquascutum, the models have dark liner on their lids in a box shape and slicked back hair. Designer Joanna Sykes took the dark theme to a whole new level through streamlined motifs, sculpted elements, oversize shapes, and leather.
The punky, hipster Ashish show had all the makings of a new-age hippie success. This "Bollywouldn't" theme meshed loud looks of Bollywood with Goa, cartoons, and New Age themes bordering on something out of a Hair musical remake.
At Jonathan Saunders, Japanese-style prints took center stage mixed with a 90s minimalism and a "country club chic" approach. Sporty silhouettes came in greens, reds, purples, and browns for Fall.
The punky London aesthetic comes out at Christopher Kane, where the designer was inspired by the movie Cruising about a police detective gone undercover in the NYC gay scene to catch a serial killer. A dark, sexual theme, with Kane's funkiness prevailing through leather and purple.
Erdem's massive prints revealed a dark woman, but with innovative style mixing fabrics that don't normally go together and adding avant garde elements in huge patterns.
Marios Schwab was inspired by Marlene Dietrich for Fall 2012, which paved the way for a 30s era femme fatale collection with a film noir air through body con shapes and squiggly prints.
Matthew Williamson was all about loud colors and overembellishment so it was no surprise to see the first look be an oversize pastel colored fox fur coat. Also sequins and cocktail dresses were prominent.
Kinder Aggugino's "Ap-pri-pri-a-tion" or "Appropriation" collection brought a mix of masculine looks with Fall fabrics like tweed and wool and mixed in feminine colors like green, red, white, and pink.
John Rocha presented a tough meets sleek collection with a mix of leather and color blocking as well as feather embellishments, lace, and big sleeves. Oversize balls of chiffon fabric added to a top or short dress.
Bora Aksu's show is a study in contrast, where the Turkish designer mixes white fabrics with dresses in details. Models have dark tights and dark makeup, but blue lips and intricate lace headpieces and pale faces. Exotic zombies, anyone?
Roksanda Illincic has made a name for herself with fans like Kate Middleton, Duchess of Cambridge. The designer had a mix of elegant and sporty in her collection.
Pringle of Scotland by Alistair Carr presented a girl who was once punky but is now all grown up. Carr included his signature cashmere sweaters and knits in an elevated fashion with intricate twists and collars.
Burberry Prorsum's front row was packed with fashion heavyweights like Anna Wintour, Mario Testino, Kate Bosworth, will.i.am and Rosie Huntington-Whiteley. The theme for Fall 2012 was "Town and Field" and had Creative Director Christopher Bailey mixing peplum with form fitting, lace with corduroy, and urban with countryside. At the end, fake rain pattered the windows and the models carried umbrellas.
Topshop Unique featured oversize jackets, a big trend for Fall 2012. It also had a new designer, Kate Phelan from British Vogue, who implanted military motifs, street meets runway, and party dresses.
Mary Katrantzou's kaleidoscope images and geometric shapes stand out at London Fashion Week along with 3D imagery, bold prints, bright colors, architectural shapes, striking silhouettes, and statement patterns of typewriters, clocks, telephones and more.
Check out more of FashionTV's YouTube Channel HERE.