I was recently introduced  to the Canadian outerwear brand Soia & Kyo, and quickly fell in love with their beautifully designed and tastefully luxurious winter coats.  We brought in a selection of their Fall/Winter lineup to Boys'co, the menswear retailer I work at, and we've barely been able to keep them in stock. I think they've been incredibly popular because not only are they quite functional for our wet and cold Canadian winters, but the level of attention to detail and creativity in their design is way beyond most of their common competitors. On top of that, they're actually pretty well priced, most of them being between $300 and $500, which for a high quality winter coat is quite reasonable (especially if you compare them to another certain Canadian brand, named after one of our national birds…. that can retail for upwards of $1000, and aren't half as good looking).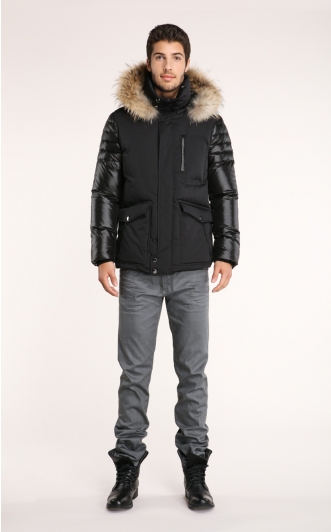 I'm a big fan of the Paco Black jacket seen here to the right, with it's two-tone body and arms, real (ethically farmed) fur hood, and down lining.  We sold out of the first batch of these ones already, so I may have to order one online, unless we get a new batch of them (fingers crossed).
You can check out their online store here, or if you live in Vancouver, you can come visit me at Boys'co on Robson street, and have a look at them in person.
Here's a look at their Fall/Winter 2012/13 lineup, including a number of beautiful women's looks that you can find in their online store.