Saturday night was the launch party of the design studio and gallery, SPACE | CAMP.  The brainchild of Blair Fairrington and Graeme Owsianski, Space Camp is their studio, work space and gallery.  For their first gallery showing, they displayed the Geronimo road trips. Geronimo is an all boys Vancouver Island swimming hole adventure featuring the photography of Nicholas Kupiak, Bogdan Trebesh, Matt Crisp, Graeme Owsianski and Blair Farrington.
I went to this event with three intentions. One, to support a friend on the launch of his business and gallery, two, to hopefully find some willing fashionable subjects to capture for my blog, and finally, to party down.  I was successful on all fronts. The party was great, the photography exhibit was truly enjoyable (not just in that fake, art appreciating kind of way, but actually interesting to look at and talk about) and there was a plethora of well dressed people for me to harass and photograph.
Here are some of my favorite shots from the night. (please excuse the shoddy photography, I'm still working on it).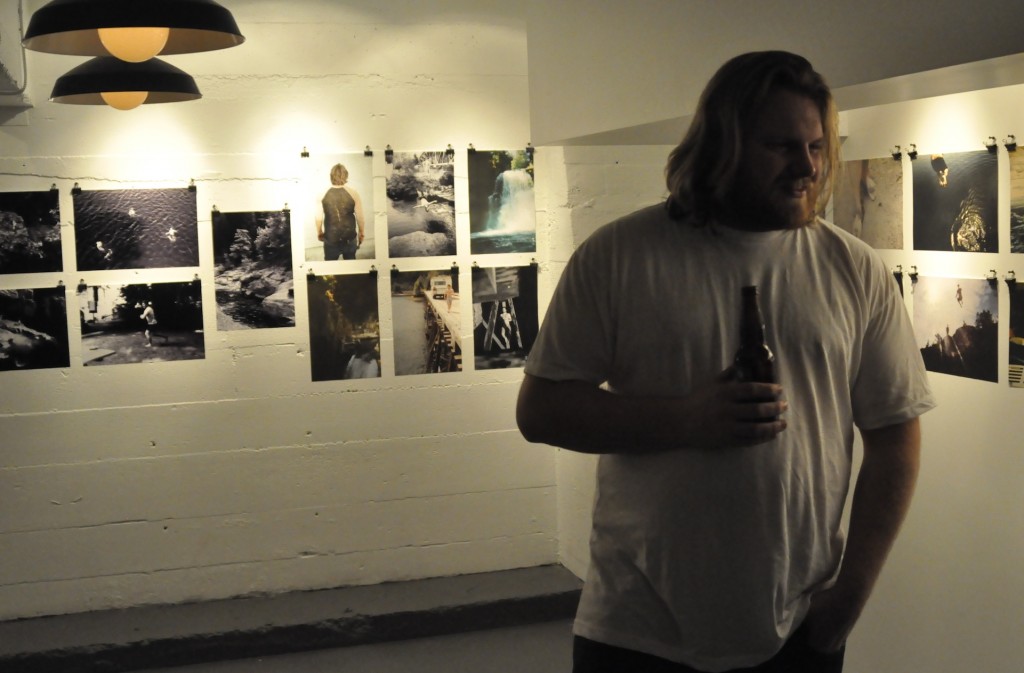 Blair Farrington – one half of SPACE | CAMP
Graeme Owsianski on the right, the other half of SPACE |CAMP.  On the left, The most Interesting Man in the World, or at least the one with the best mustache and attire. I really liked his shoe/pant/shirt/mustache combo.  I also quite enjoyed Graeme's chambray shirt.
Andrea Dashwood, workin' it for the camera. One of my favorite looks, skinny jeans, heels, and leather, polished off with some serious lip stick.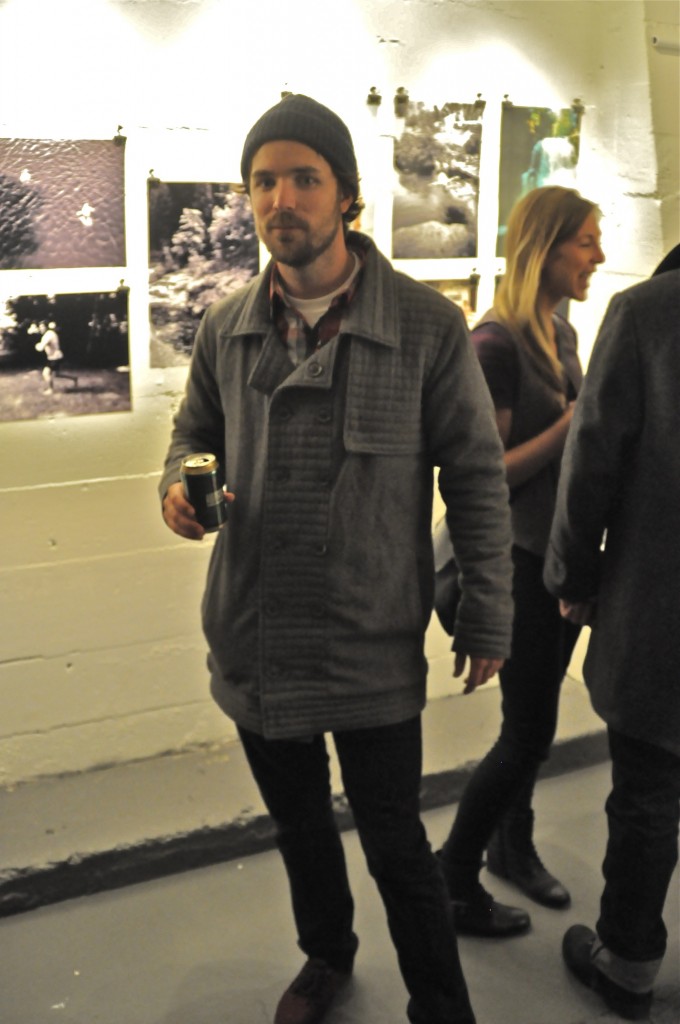 I don't know who this gentleman is, but I really like his jacket. Very structured. Immediately after this he shotgunned that beer for me. Yeah budday.
My lovely wife looking lovely, in the top I got her from BCBG Max Azria. Yeah, that's how I roll.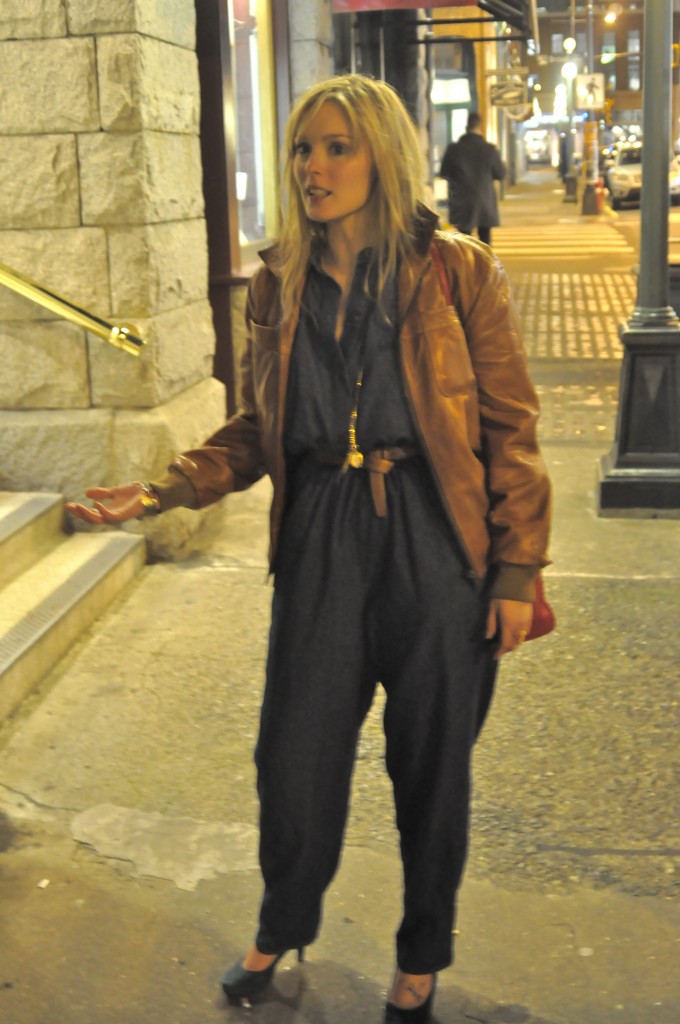 I was so pleased to see this girl on her way to the space camp party, rocking her jump suit.  A jump suit could look horribly 80's, but she really pulled it off. Well done.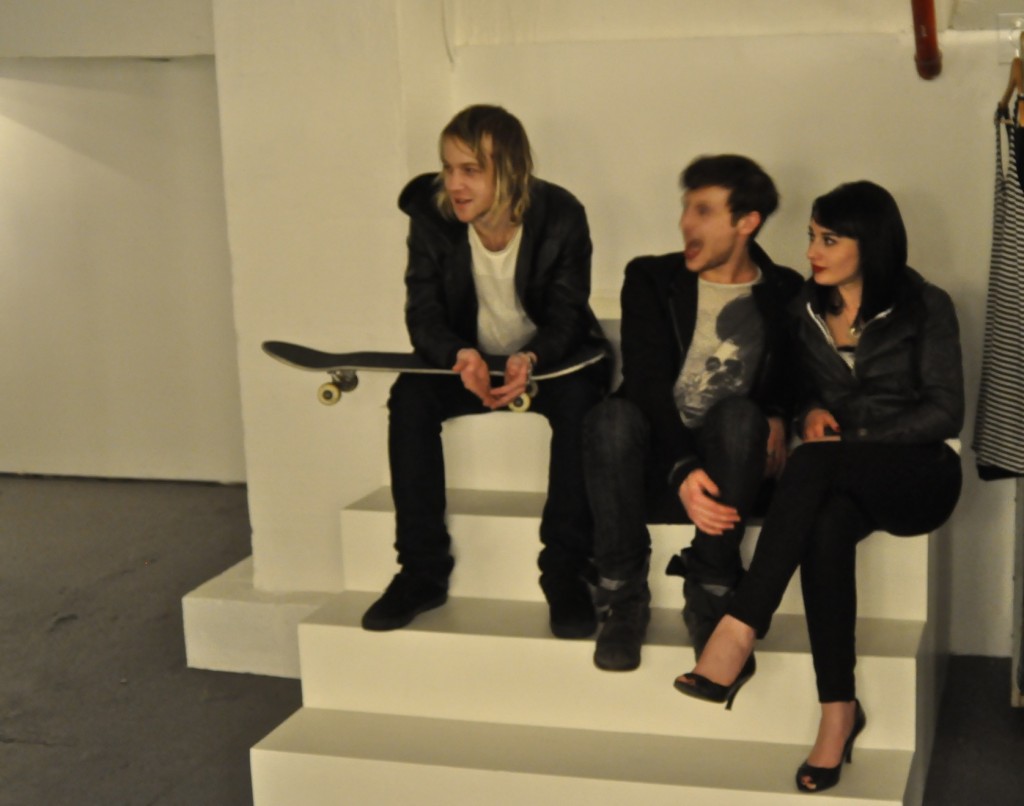 This photo is out of focus, so sue me. Anyways, Andrea, Yohji and their friend look like they belong in a luxury denim magazine shoot. I like it.