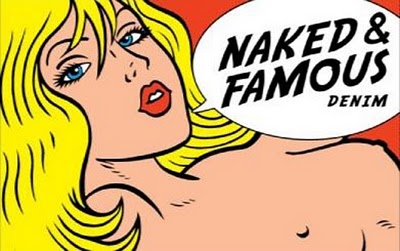 This week we had the privilege of picking the brain of Brandon Svarc, founder of Canadian denim brand Naked & Famous.  Known for their rare Japanese selvedge denim and based out of Montreal,  Naked & Famous produces some of the most innovative (and interesting)  jeans in the world. Brandon is a guy with a big personality, and some very strong opinions regarding the state of the denim industry, so I was excited to hear his thoughts and gain a little insight into what starting a brand from scratch entails.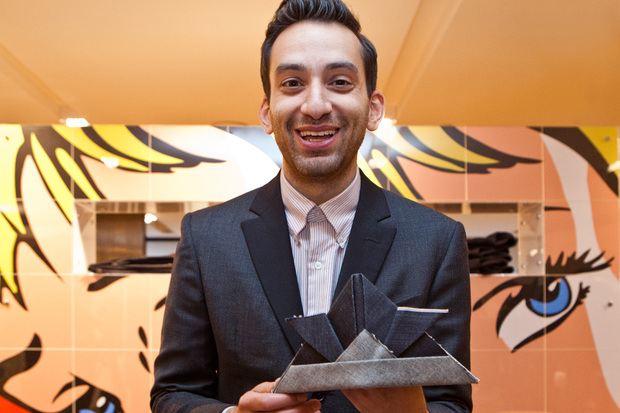 So Brandon…
What excites you most about running your brand?
Creating something from nothing.
I understand that you have a degree in finance, some history in PR, and a long family tradition of manufacturing clothing.  When did you jump into the design side of things, and did you have any formal design training?
I don't have any formal design training. We don't really "design" jeans in the way that some fancy Italian brand does "design". We don't add rips and tears and "fashion washes" and crap like that. Instead, we develop new fabrics and put them in our existing fits. We select the best hardware and thread, and that's it. I don't need design school to make a badass pair of jeans.
Is there anything or anyone that influences you and your designs?
My grandfather was a huge influence on me. He is the one who started our parent company and who passed down his morals and business practices to my father and myself. When I had plans to start a denim brand most people told me "Oh you are good at marketing so just get all the celebrities and famous people to wear your jeans and it'll be a big hit." But my grandfather said "Don't listen to those fools, just make a better product than your competitors at a better price!" …and that's what we did.
Honestly I don't know. Perhaps our next "collabo" will be N&F X Tate + Yoko which is our new retail store in Montreal. www.tateandyoko.com
What advice would you have for an aspiring denim designer? Anything you know now that you wish you knew when you started?
My best advice is the same one that I was given just as I started over 5 years ago… That is, "Sell it yourself". Simply ask yourself 2 questions: 1. Who loves your brand more than you? 2. Who knows more about your brand than you? If both answers are "nobody" then how can you let a sales rep or distributor sell the brand?
Tell me about Unbranded, your new line of denim; where did that idea come from and where would you like to see it go?
The Unbranded Brand was launched around 3 years ago in order to offer a lower price-point than N&F. We see $135 for N&F as a great price. I bet our jeans are the lowest price available at Barneys or Holt Renfrew or many of our retailers. And compared to $180 or $250 or $400 jeans our price is unbeatable. But we also realize that there are high school kids, college kids and other folks who can't afford $135 or $180 for a pair of jeans. At $80 for heavy raw selvedge denim, Unbranded is the best starter denim on the market. We will grow Unbranded and will soon offer a 21oz version for under $100!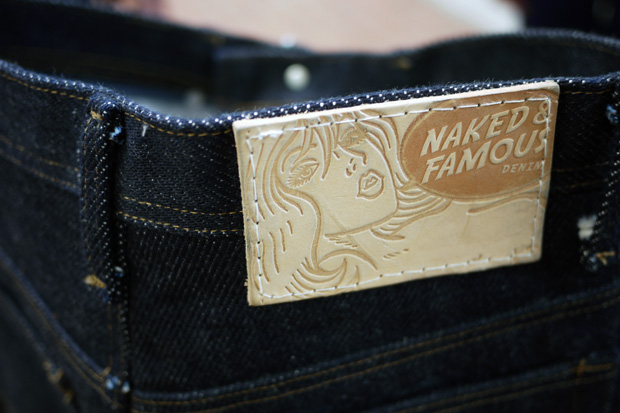 N&F is one of the few brands that produce in the same country the brand is located.  Obviously this can be more costly that manufacturing overseas, but are there any hidden advantages to staying local outside of it being more ethical?
Of course! We have very fast "production to market" times. If we have the fabric on hand we can have jeans on the market in a couple weeks. That would be impossible from overseas. I prefer the local quality. These local factories have been making jeans for tough Canadian climates and workwear for many years. I can visit the factory any time I want. Speak to the staff without a translator. We are proud to be 100% Made in Canada and will never change that!
You've created the heaviest jeans in the world, your 32oz Selvedge jean, what extreme direction will you take denim in next?
In January we will release a Thermochromic selvedge denim jean that changes color with body heat!
We hate "designer jeans" and crazy washes and embroidery and celebrity endorsed crap, BUT, we do not want to change it. We need all that nonsense to exist so we can be the opposite of it. I love the contrast. But, I do love converting guys who wear washed out bootcut jeans into proper raw denim.
With everything that goes into running the business, are you still heavily involved in the design and fits of the jeans?
Yes. I do all the design. The fits are done together with our patternmaker who has been doing jeans patterns for 40 years!
I've read that Fall 2012 will be a big season for N&F Women's wear, anything you can tell us about that we'll be seeing soon?
We are very excited about the new womens stuff that re-launched this season! The fits are AMAZING and we are getting a great reaction. We have great basics as well as the crazy stuff like Glow in the Dark jeans.
On your trips to Japan to find rare denim, how do you actually go about searching it out? Secret Japanese industry contacts?
In the first couple years it was a lot of searching. Now we are well established and have many key contacts in Japan and can develop new fabrics together with the mills. I recently asked one of our suppliers who visits him the most… he said without question it's us (Naked & Famous Denim) and the denim designer from Louis Vuitton.
What was the most difficult thing about launching N&F?
The scariest and possibly most difficult thing about launching the brand was sales. Specifically because we had no contacts on that side. My family has been selling workwear, not luxury jeans, so we didn't have any contacts. I didn't even know a single retailer in Montreal forget the rest of the world. But we have a great product with great value and we caught the attention of Barneys, American Rag and other great retailers in our first season.
You're expanding into more shirts, bow-ties, jackets and women's wear, what are you most excited about in your Fall collection?
The launch of our womens is pretty exciting. Glow in the Dark jeans is also crazy and exciting. Soon we will release a new fit called SuperSkinnyGuy too!
Hmm… I'm not sure if this answers your question but our rivets say "Je T'adore Tout Nue" on them and nobody ever notices that!
What are you most proud of?
When I travel to a city far away like Bangkok and I see a bunch of kids wearing N&F jeans… that's pretty cool!
What's next in the story of Brandon Svarc, denim savant?
Ha! My brother tells my wifey that it's time for us to make a baby so we can make selvedge denim baby jeans!
Thank you Brandon for taking the time to help us get to know you and your brand a bit better! I look forward to seeing all the great stuff coming out from Naked & Famous this season!
If you'd like to check out Naked & Famous jeans here in Vancouver, you can find them at Boys'Co on Robson, and if you're looking for the new Unbranded line, you can find it at Crome Yellow in Gastown  and of course you can always head over to Naked&FamousDenim.com to shop online.