A brief look inside S&R Denim Co production..
People often question why our products cost more than a garment made overseas, and hopefully this will give a little insight into our investment in each piece of clothing we produce.   This is the first of a three part series, in future posts we will go through the production process of our aprons, as well as go into more detail of the actual sewing steps for each product.  This first post is an overview of the entire production process.
We make made-to-order jackets and vests for men and women, all in our small studio here in Vancouver, BC, Canada.  With each order, the customer can choose their fabric, stitching colour, button and rivet colour, hood or collar, liner fabric, and additional pockets.  Every jacket and vest is made from beginning to end by our small team, and even with the standard list of customization choices, each jacket becomes unique based on the combination of details chosen by the customer.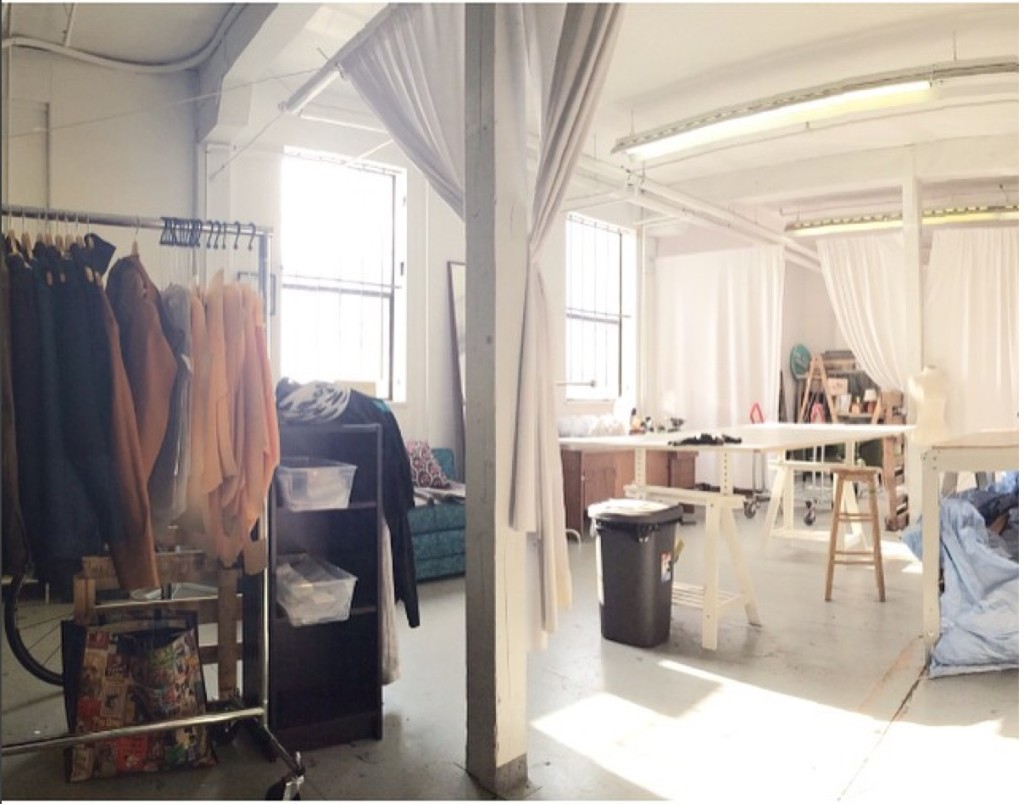 First, we'll jump right to an example of what we make.  Below is our Men's Hooded Denim Jacket in espresso-brown denim with a charcoal denim yoke (shoulders) and light charcoal liner.  This jacket also had the addition of in-seam exterior hand pockets at the hip, as well as interior storage pockets at the lap.
The jacket order comes in either through our website, by email, or in this case the client was from Vancouver and came in for a personal fitting in our studio.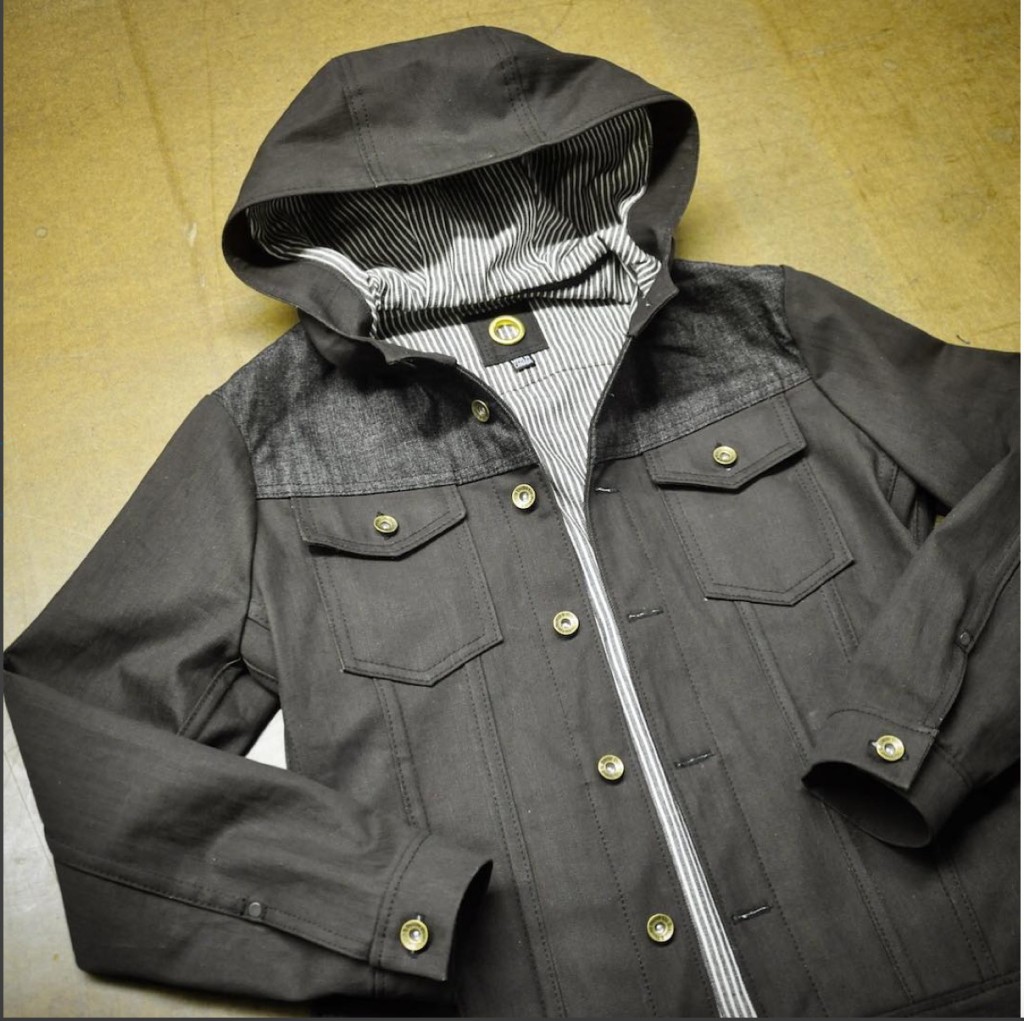 Next, we pull the patterns. We're onto our fourth edition of our jacket and vest patterns,  making adjustments, additions and revisions along the way.  This year we've again revised the fit in the mens patterns, made some changes to the construction of both the mens and womens garments, as well as added new features to all styles such as in-seam hand pockets and interior storage pockets.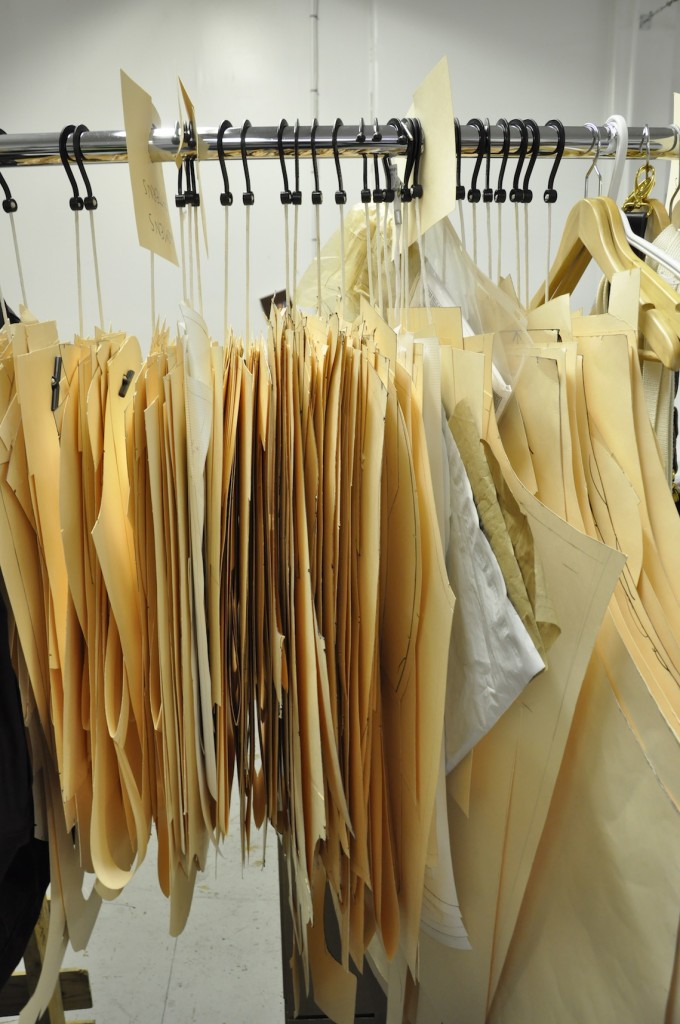 Each pattern group has a number of options, such as collar or hood style, additional pockets and of course sizing.  Before each pattern is laid out for cutting the pieces are sorted into what is necessary based on the customers customization requests.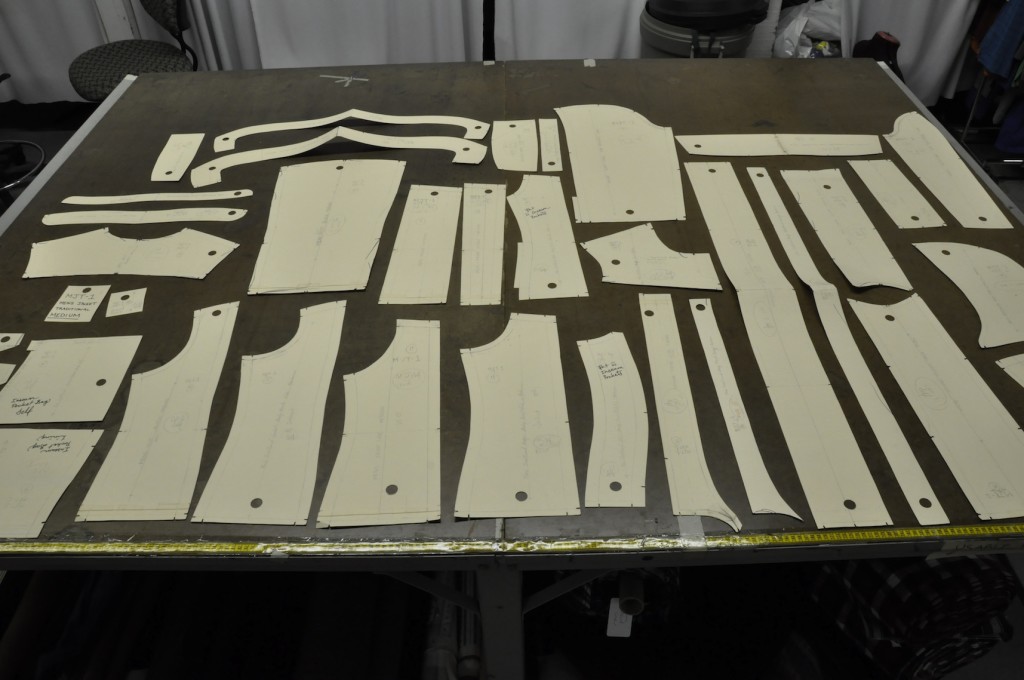 Every clients garment order has it's choice of fabrics and we typically offer a range of canvas, traditional indigo dyed denims, and VAT dyed (insoluble vegetable dyed) denim twill.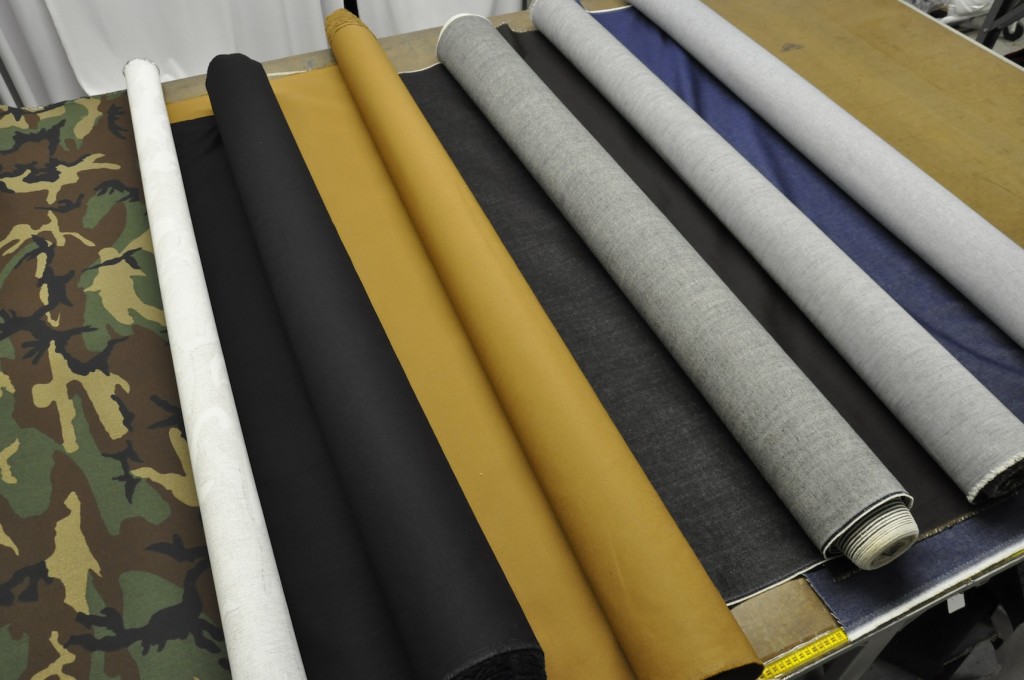 For 2016 we will be offering some new options such as a leather hood and sleeves.  We work with local leather supplier Lonsdale Leather who sources our cowhides from the USA, Europe and Asia (we've recently found some great leather from South Korea).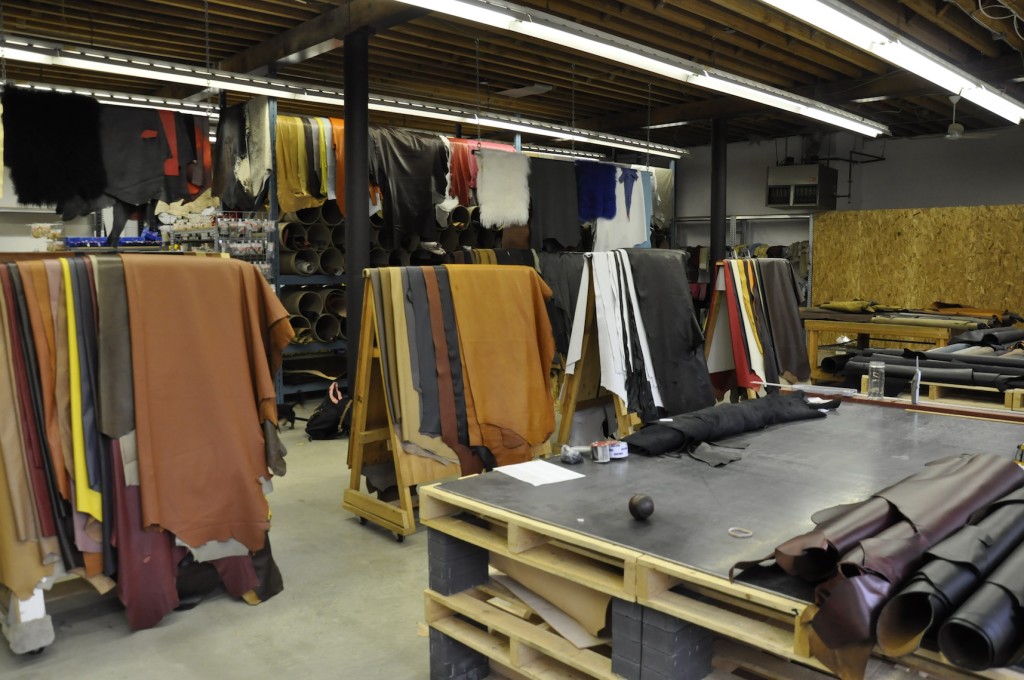 This year we're using "Lamb Touch" 2oz cowhide in a beautiful black light-matte for our jackets.
Next step in the production process is to lay out the pattern and chalk the onto the fabric.  Every jacket is chalked and cut one at a time as each jacket is a little different than the last based on the customers requests.  This is  Aila, one of our newest staff who we scouted from Vancouver's Blanche Macdonald Fashion School, working on tracing and cutting a women's indigo blue denim jacket.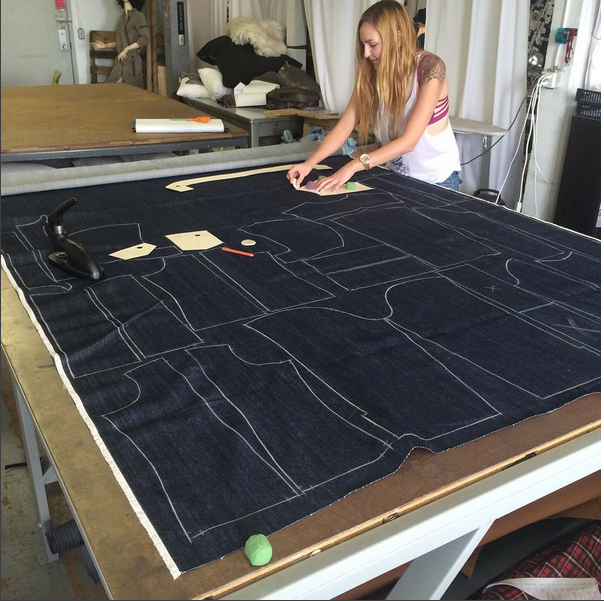 Here are all the jacket pieces laid out and ready for sorting. Based on the order of the construction of the jacket each of the pieces will be grouped for the most efficient sewing steps.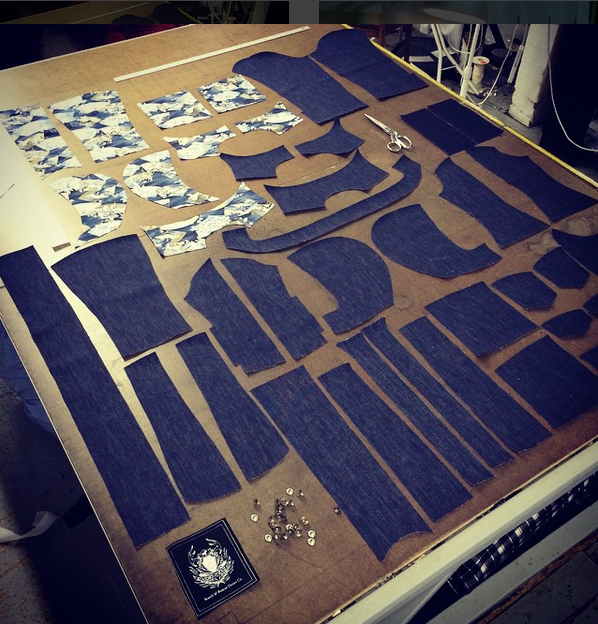 This is the newest editions to our shop, a Pfaff industrial walking foot machine that will allow us to sew the leather features on our 2016 jackets (I am in love with this machine!).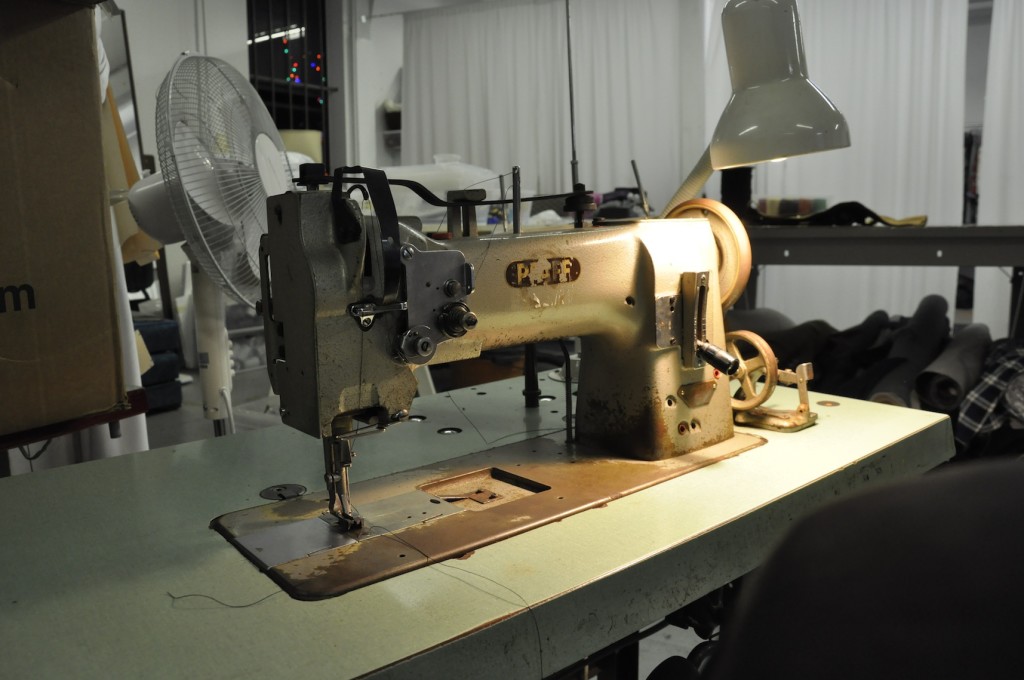 Sewing production begins. Typically two staff will work on one jacket at a time, with one person doing the steam iron pressing and fabric pinning while the other sews. In a typical factory there would be a different seamstress for each step of the sewing, but we are a team of six, so two seamstresses to a garment is as as "production line" as it gets.   In future posts we will dig in more into the step by step of the sewing process. For now, I will just say that it is about 9 hours of sewing work per jacket.  This is our lead jacket seamstress Katrina getting the machine threaded and ready to start an order.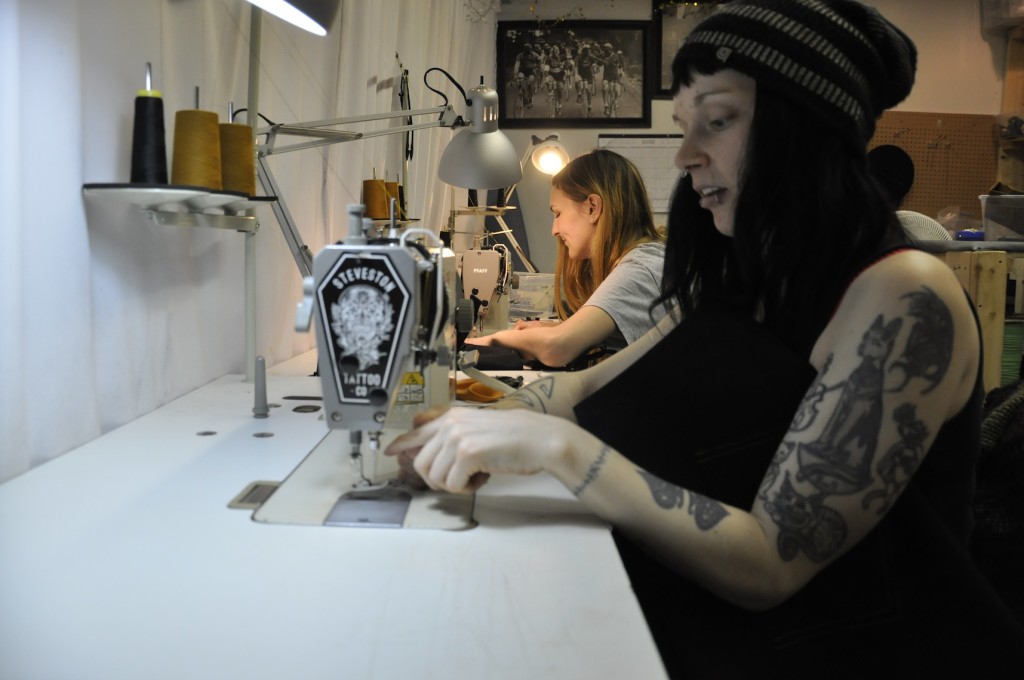 After the sewing is complete the jacket is marked for buttonholes.  The buttonholes are then stitched, cut open, and the buttons are pressed on with our hand-press.
Once the buttons are installed, the final step is to punch and install the rivets that reinforce the pocket openings under the chest pocket flaps.  If the customer has requested additional hand pockets at the hips, this would be when those pockets are riveted as well.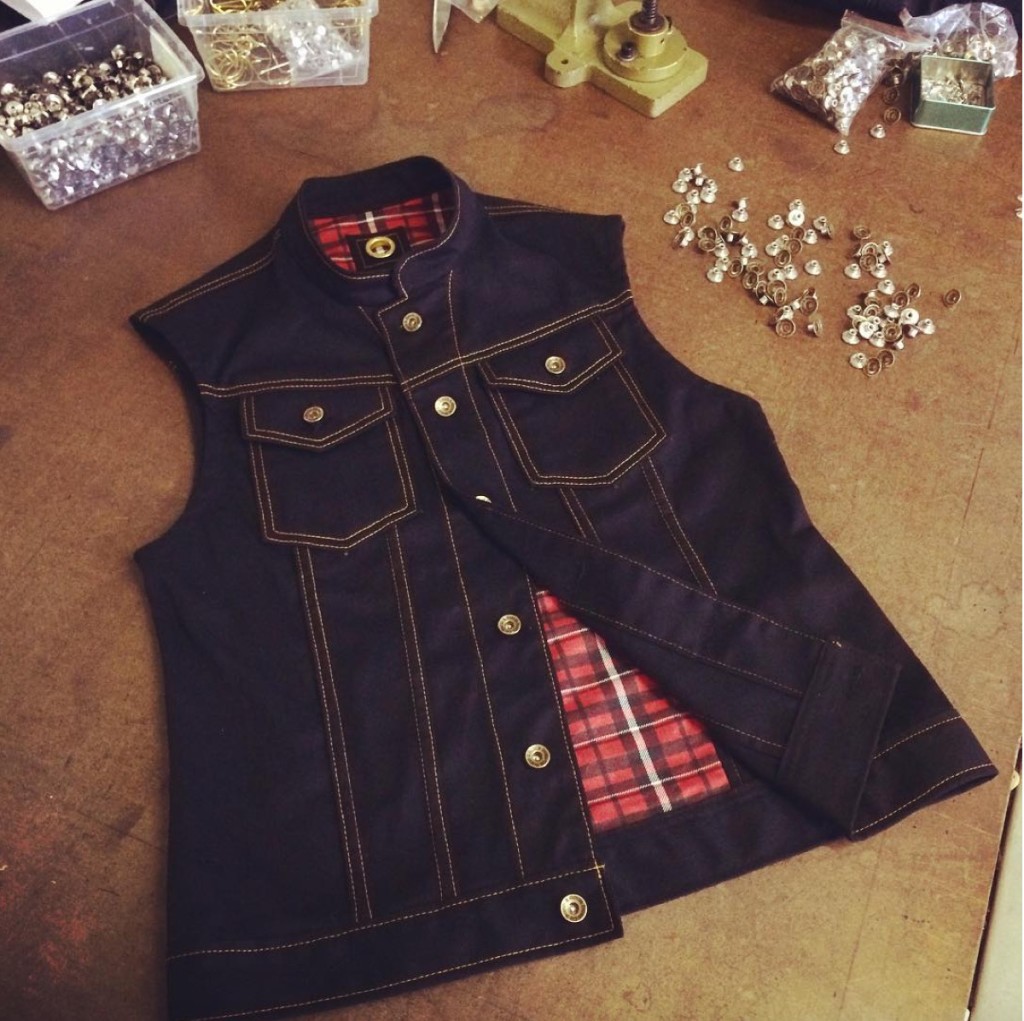 And the final product.  This is the first sample of our 2016 Mens Jacket with leather hood and sleeves, as well as in-seam hip pockets.  We will still have a few revisions to go – we will be creating a full "floating liner" for the inside out of some new fabrics, as well as making a final sample out of the 2oz cowhide that we just acquired (this sample was made out of heavier 3oz cowhide, and we found it just too heavy to be as comfortable as we wanted).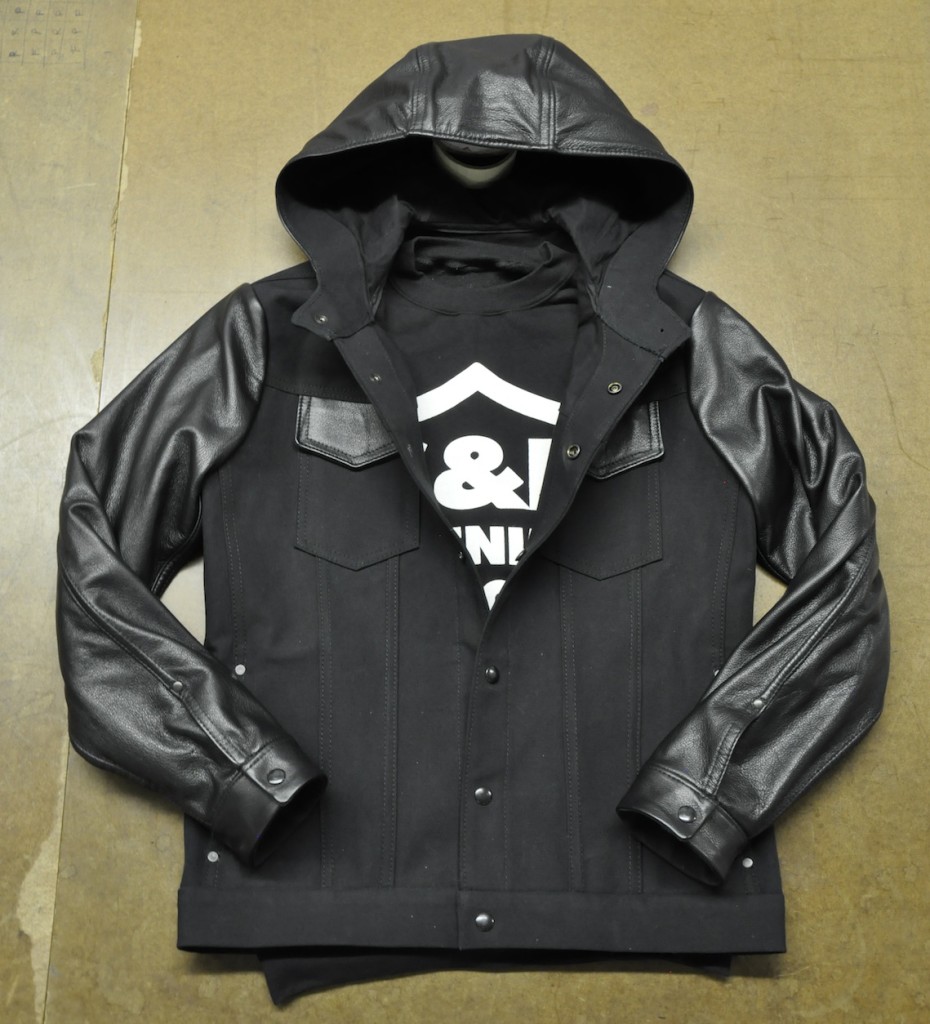 Here is an example of one of our women's jackets completed. This one was made for local videographer and video editor Ornella Sinigaglia, who produced our documentary video last year.  This was the womens  blue indigo denim jacket that was being cut in previous photos.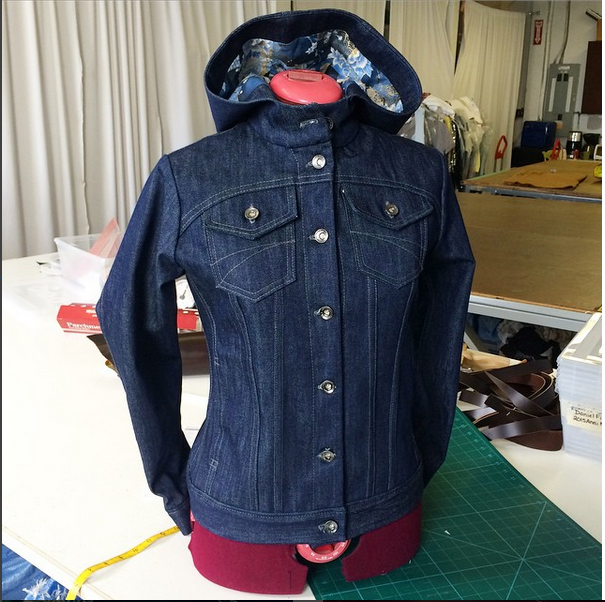 That's all for today.  Thanks for taking the time to look inside our production process, hopefully it has given you a bit of a better idea of what goes into the making of each Search & Rescue Denim Co garment.   To see more of our products, customer photos and shots of our production shop, please check out our Instagram page.