Trainerspotter. To give anything less than your best is to sacrifice the gift.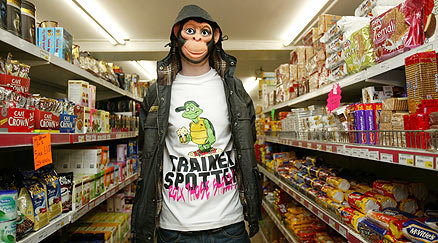 I will refrain from making any statements like "they're blowin' up" seeing as Trainerspotter's dedicated icon is a hand grenade. What I will say is that Trainerspotter are  producing some quality goods in eye catching colours with original designs.
From their site:
Trainerspotter began as a side project between two friends, Russell Gater and Daniel Savory, it was a kind of creative outlet, a project exploring sports heritage, street subculture and graphic design for their love of vintage sneakers. This quickly developed into a real brand and business as demand for the product grew not just in the UK but Worldwide. Inspired by Trainerspotter heroes such as Steve Prefontaine, Jeff Johnson, Geoff Hollister and Rudi Dassler, the initial aim of the brand was to tell the stories behind sneaker culture that nobody had heard before…  Click here to read the rest…
Their Autumn/Winter Collection has some great pieces that I would definitely rock myself, like any of the varsity jackets, crew neck sweatshirts (or tee shirts, or really anything from this lineup, it's all good).
Here are some of my favorites from this collection:
One last thing, they have a book store on their site now! If you have an interest in sneaker culture, there are some pretty rad looking books there to peruse.
– Will, The Style Butcher